Latest
'Black Panther' Star Michael B. Jordan Surprises Alabama School Kids
By
|
[ad_1]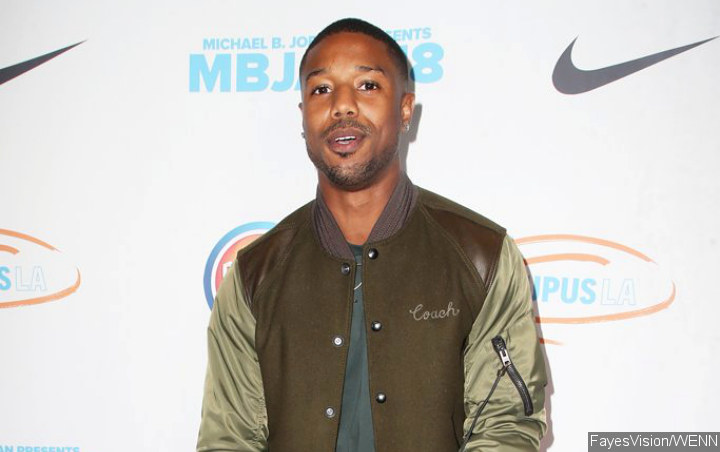 The 'Creed' star decides to take a moment to say hello to a group of Valiant Cross Academy boys while he's heading home after a day of filming.
AceShowbiz –
Actor Michael B. Jordan surprised a class of "young kings" on Monday, August 27 by stopping by their Alabama school to give them an impromptu pep talk.
The "Black Panther" and "Creed" star was heading home after a day of shooting new legal drama "Just Mercy" in Montgomery, and he decided to take a moment to say hello to a group of Valiant Cross Academy boys, who were exercising outdoors.
"I was driving from set & saw these young kings standing in their school parking lot doing jumping jacks in 90 degree Montgomery Alabama heat!" he captioned a video clip of the meeting. "The sight of them inspires me & reminds me why I do what I do!!"
The Instagram footage features Michael getting out of his car and walking up to the children, who gather round in excitement as they realise who he is.
"Are you Michael B. Jordan?" asked one boy, who exclaimed, "Oh my god!" when the actor confirmed his identity.
"You're from Black Panther!" screamed another excited kid as the 31 year old greeted each youngster with a warm handshake.
"Keep working hard," he encouraged them.
Michael then gathered the boys and offered up a little sage advice before posing for a group photo.
"You gotta listen to your teachers… Make sure you listen to your parents," he told them. "Work hard…, just pay attention in school, it'll go by real quick, know what I'm saying?"
Michael's post earned him high praise from his Instagram followers, with celebrity fans Gabrielle Union, TV mogul Shonda Rhimes, rapper Machine Gun Kelly, and basketball ace LeBron James all applauding his kind gesture.
The star's new movie is a biopic based on the life of local civil rights attorney Bryan Stevenson, who founded Montgomery's Equal Justice Initiative, through which he helped wrongfully convicted or unfairly sentenced prisoners fight for their freedom.
The actor will portray Stevenson, opposite Jamie Foxx as his client Walter McMillian, who served six years on death row after he was convicted on false testimony. He was exonerated in 1993 after filing his fifth appeal.
"Just Mercy", which is based on Stevenson's 2014 book of the same name, will also star O'Shea Jackson Jr. and Brie Larson, and is set for release in 2020.
Next article


'America's Got Talent' Recap: Contestants Fight for Semi-Final Spots in Quarterfinals 3
[ad_2]

Source link