Internet
For 20 Years, This Woman Has Dedicated Her Life To Helping Homeless, At-Risk Youth Get Off The Streets
[ad_1]

For 20 Years, This Woman Has Dedicated Her Life To Helping Homeless, At-Risk Youth Get Off The Streets
May 14, 2018

Stephanie Taylor has been honored with a special award for her remarkable 20 years of dedicated service to the homeless and at-risk youth at Covenant House Michigan.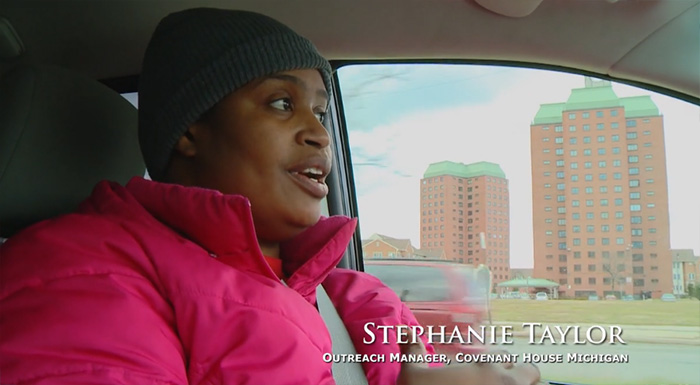 Covenant House Michigan is a nonprofit organization that provides shelter, educational and vocational programs, as well as other support services to homeless, runaway and at-risk youth ages 18-24.

Covenant House Michigan has come to be known by area young people as a place they can go to build a better future and be treated with respect and unconditional love. Over 60,000 youths have been served by the faith-based organization since its inception in September, 1997.

Taylor has done outreach for Covenant House Michigan for 20 years. She spends most of her time traveling the streets of Detroit in a Covenant House minivan, reaching out to youth to teach them about Covenant House Michigan and offer help if they need it.

"Usually when young people are homeless and they don't have anywhere to go, they might sit in emergency rooms. They might go there to play like they're sick. They might sit in the transit center because it's free to get in," Taylor told ClickOnDetroit.

"Sometimes they'll be at their so-called boyfriend's house, which is really not a boyfriend's. What they're doing is, 'OK, you can stay here as long as you can do this'… they're being trafficked and they're being abused and we see that."

For Taylor, watching young people get a new start is what keeps her going every day.

"This could be your child," she said. "This can be your sister, your brother, and I tell people all the time, we're not immune. Something (can) happen to us. Who is going to be out there to approach your kid if their family members turn their back on him? Just to hear kids say, 'I wouldn't know what I would have done if you hadn't pulled up and helped me.'"

On Thursday, Taylor was presented with a Lizzie Award at Covenant House Michigan's "A Night of Broadway Stars" benefit at the Sound Board at Motor City Casino Hotel. The award is given to people who devote themselves to the mission of Covenant House Michigan and the people it serves.

Watch the video below to learn more about Stephanie Taylor and Covenant House Michigan.
Please consider making a donation to Sunny Skyz and help our mission to make the world a better place.
[ad_2]

Source link